​
​
STEP 1: HISTORY AND INTRODUCTION
Most people come to me with a problem and are usually in pain, but to treat your problem is to treat you, and you are an entire person.
What do you spend most of your time doing? What has your body been adapting to? What physical activity do you do? How well do you sleep? How stressful is your life? What movements set the pain off? All these things are important for us to talk about, as they contribute to pain, which is so multifaceted.
​
We can then learn what might be unhelpful for you and what can help you. Take out what isn't helpful and add what is.
​
So the first thing we do is talk, go through some movements and understand you and how best we can work together to help you help yourself.
​
STEP 2: TREATMENT AND MOVEMENT
​
​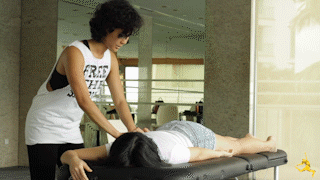 Treatment can consist of hands-on work and movement, depending on what works best for you. Some sessions might consist of more movement than hands-on work. Touch and movement is a great way to help the body regulate pain and have a clearer understanding of itself.
​
You have a map of your body in you at all times, you know where everything is, how it feels and how it is relating to the environment and itself. When an injury occurs or pain occurs, that picture gets a little smudged. It gets blurry and it's harder for you to tap into that part. This can feel like the area is out of alignment, or just feels "off".
By using touch and movement to bring clarity to the map and creating new options for how the body can be and move, you will feel and get better,
​
STEP 3: TAKING IT HOME AND INTO YOUR LIFE
​
Rehab is not just getting out of pain, but becoming resilient and beyond. We'll come up with a routine and movement practice around helping you and what is sustainable for your life and schedule, built around principles and concepts about the body.
​
Consistency is important in creating change, so we'll make sure that the routine is fun to you and an easy habit for you to build. So many of my clients never thought they'd love "exercising", but they do now!